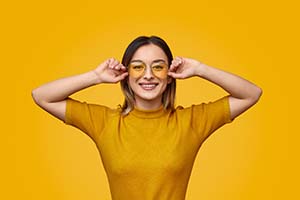 Bernie's mittens weren't the only Inauguration Day look that captured our attention. Monochromatic outfits were donned by fashionable attendees in every age group!
The word "monochromatic" breaks down into two pieces: "mono" meaning single and "chromatic" meaning color. So a monochromatic outfit would consist of pieces in one color.
Monochromatic outfits are a top trend right now for a reason – they can be worn at any time of the day or year, convey a polished and chic appearance, and have the added bonus of being slimming when kept simple! Have you considered wearing a monochromatic outfit but shied away for fear of being too matchy-matchy, or looking too plain? Stacee shared three expert styling tips on how to pull of this look.
1. Embrace the "new" neutrals. If you hear "monochromatic" and think matching sweater sets – think again! The joy of the monochromatic fashion trend is pairing different shades and tints of the same color! Harness the full visual impact of monochromatic by creating an outfit using a single color in a variety of its hues and shades to make encompass the current fashion trend. Stacee says "neutral" expands beyond the standard blacks, whites and greys – mix in muted tones of trendy colors like this mauve look or an olive green, or pastels like soft pink and lavender. This way, you achieve the toned-down look of being neutral while being anything but plain!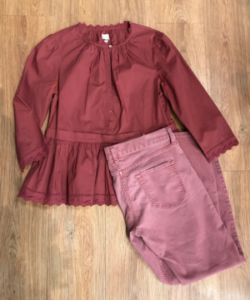 2. Don't feel stuck with solids. Bring some complexity to your monochromatic outfit by starting with a small print in a color you love. Then, find the base color and mix in different shades with your other pieces. Simple or muted prints can subtly add some visual richness to the single-color look. Stacee paired this printed button-down with some shimmer with pants in a matching shade of pale pink, a jacket in a slightly darker tone of the same color and some velvety-soft sneakers.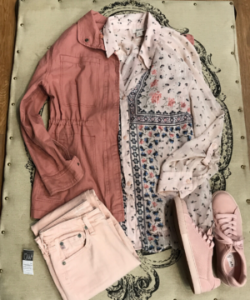 3. Add a "third piece" to match what you've got. You can easily build a monochrome outfit based around an item from your closet! A cross-body bag, a belt, or a jacket can make the look feel "complete" and help to blend your items together. Stacee styled this valentines-inspired look with a long blazer and cute cross-body micropurse. She also added some edge to an all-denim look with a moto-zip leather jacket in a matching shade of blue.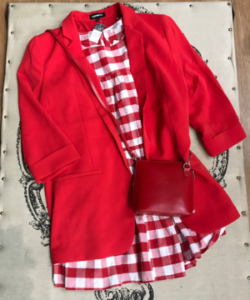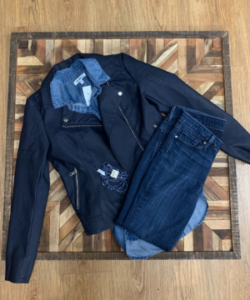 All the items shown here were purchased at the Goodwill of Southern Piedmont's GW boutiques. Follow the Goodwill of Southern Piedmont on Instagram to stay up on the latest trends and tips, and to find out when Stacee's pop-up is launching each month: @GoodwillSP.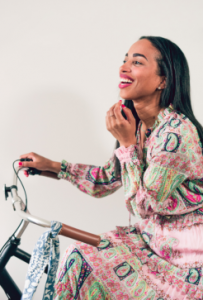 About our guest blogger: 
Stacee is a wardrobe stylist and fashion insider who has been featured on E New!, FOX, and BET, among others. You can find her around Charlotte and the nation styling famous athletes, celebrities and artists. Now she's shopping for you — handpicking trendy items each month that will be available in a Styled by Stacee collection at Goodwill of Southern Piedmont's fashion-focused GW boutiques. When you shop Styled by Stacee, you're not only getting trendy items handpicked by a professional for a fraction of the price – you're also helping to fund Goodwill's mission of providing job training and employment services free of charge. Follow Stacee on Instagram at @itsstaceemichelle. 
This post was adapted from a blog post featured on Goodwill Industries International blog, you can read the blog post here.